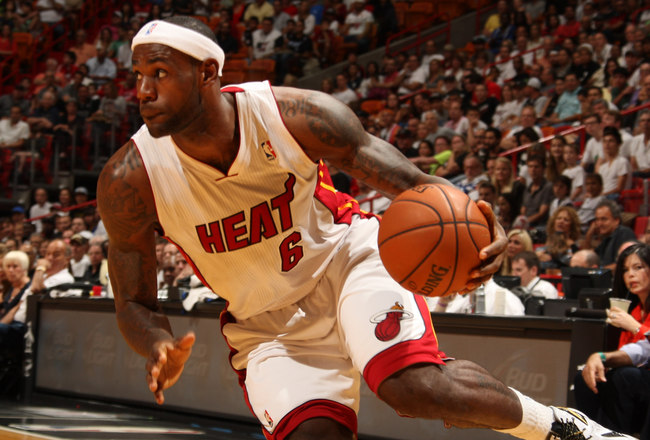 Yesterday, the Miami Heat came out victorious against the Toronto Raptors with a score of 104-95. They struggled the first half but managed a big second half with help from a monster individual performance by LeBron James.
While the Raptors outplayed the Heat for most of the first two quarters, LeBron kept his team within reach until everyone else on the team came alive. He finished the game with a season-high statline that would be ridiculous for any other player in the league: 35 points, eight rebounds and eight assists. In comparison, Dwyane Wade had 20 on Tuesday and Ray Allen scored 14 points for Miami, which lost at Philadelphia on Oct. 30 and was beaten 101-100 at Brooklyn on Nov. 1.
Miami topped 100 points for the fifth straight game, extending their team-record run to begin the season. With a putback dunk at 2:31 of the first quarter, James became the fifth player in NBA history to score 10 points or more in 500 consecutive games.
"When I see a stat like that, I'm like 'Wow,' because I know the history of the game, I know the guys who paved the way for myself and my teammates," James said. "To be in such a great class like that, it's an amazing feeling."
James has reached double figures in every game since being held to eight points at Milwaukee on Jan. 5, 2007. He scored 19 at New Jersey the following night.
"In practice, during shootaround and during games, he's a consistent player, period," Wade said. "I'm not surprised by that. Just more surprised at how he's been able to keep himself out there on the floor."
We at
The Therapy-IV
love our sports and will be keeping you up-to-date on latest news and updates in basketball. What better way to celebrate this week's victory than to enjoy a day out at sea and enjoying the famous Miami climate. If you're looking for a thrilling day out, consider us for your next
Miami Beach Deep Sea Fishing
trip. Call me, Captain Stan, at 305-945-1578.